inquiry
Multi-Function Laboratory Pelletizing Compounding System
Description
CK-32HT Multi-Function Laboratory Pelletizing Compounding System is especially designed for laboratory purpose. It is suitable for all kinds of plastic experiments and is the best tool for testing in research and academic institution.
Possible materials :
Various filler compounds with plastic materials as CaCO3, Tio2, Talc, Pigment, etc.
Outline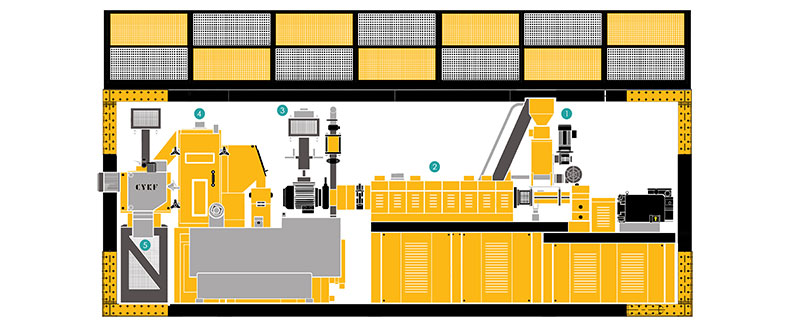 How it works :
①Volumetric dosing feeder ➜ ②Plastic extruder ➜ ③Die face pelletizing/Strand pelletizing/Underwater pelletizing system ➜ ④Centrifugal dryer ➜ ⑤Storage tank

The first step is to confirm which pelletizing method is suitable for the plastic materials to be tested. The raw materials are fed into laboratory extruder by passing through volumetric dosing feeder, and then melted, kneaded, pelletized, cooled, dried, and become pellets.
Volumetric dosing feeder


Materials fed continuously in fixed volume.



Extruder screw


The extruder screw is the heart of the plastic extruder. It is used for melting, delivering, and kneading plastic materials. The excellent screw design can bring high efficiency, high productivity and high quality of plastic pellets.



Die face pelletizing system


It is suitbale for the compounding productions with high volume of fillers or plastics that cannot be directly touched with water or have a fast cooling rate. After the melt is extruded from the die, it is directly cut by a rotary cutter, and the pellets are cooled by air at the same time.



Strand pelletizing system


The melt is extruded into strips from the die and then enter the water tank for cooling. The cooled strips then pass through dewatering unit and pelletizing machine to become plastic pellets. The method is suitable for manufacturing rigid plastics.



Underwater pelletizing system


The melt is extruded from a die immersed in water and directly cut into pellets by a rotary cutter. The water is to cool and transport pellets. This method is widely used in the production of plastics with high viscosity or low MI value.



Centrifugal dryer


The equipment is the downstream process of underwater pelletizing system. It is to remove surface moisture on the cooled plastic pellets. A better quality of the pellets can be obtained by eliminating the moisture.



Storage tank


The storage tank is to gather plastic pellets. It is made by stainless steel.
Features
1. Flexible pelletizing systems

Three common plastic pelletizing systems are integrated into one machine, including die face pelletizing, underwater pelletizing, and strand pelletizing. The flexible design perfectly satisfies different experiments and greatly helps save time and investment costs.


2. Small batch

The CK-32HT laboratory extruder supports small batch production, helping to prepare a small amount of test samples of various plastics in a short time to achieve the most cost-effective experimental testing.


3. Intelligent automated operation

The high-level human machine interface system integrates all production parameters and helps operators intelligently control, analyze, monitor, and adjust each production process. It is a smart line with complete functions, which can effectively improve the experiment efficiency.


4. Noiselessness, compact, space saving

The extrusion system is built highly noiselessness and small. It is not only suitable for industrial environments, but also fit for research or educational institutes. The space on top of the machine allows dies and tools to be stored and managed conveniently, which greatly reduces production preparation time.


5. Recognized by professionals

The uniqueness of our CK-32HT laboratory extrusion system won the Taiwan Plastic and Rubber Machinery "Research and Development Innovation Product" competition in 2018. It is highly recognized by professionals and absolutely your first choice for experimental machines.
Specification
| Model | CK-32HT |
| --- | --- |
| Screw Diameter (mm) | 32 |
| L / D Ratio | 36 - 46 |
| Main Motor (kW) | 18 |
| Output (kg/hr) | 20 - 80 |
| Volume (m3) | L8 * W2.1 * H2.8 |
*Above data is based on ABS. Actual output depends on different materials.
*All specifications, design and characteristics shown above are subject to change without prior notice.